Pampanga-based artisanal furniture brand Industria Edition, known for its export-quality steel pieces, is tapping the domestic market with a collab with four noted local designers.
There's a transition piece for every homeowner at Industria Edition, a proudly Pinoy brand whose metal furnishings are made by skilled craftsmen in Pampanga.
Though Industria only recently opened the doors to its showroom at The Residences Greenbelt, the company has actually been around for 24 years, exporting metal furniture to Europe, Australia, and the United States — and distinguishing itself with statement pieces in steel.
"We try to be as Boheme as possible but still grounded as furniture pieces instead of too much on iconic sculptural pieces," says Jude Tiotuico, Industria Edition's creative director and chief designer. "We've accepted the fact that no homeowner would furnish their home in all-steel, so we tried to bridge the gap between classical furniture and modern furniture to create transitional pieces: accent tables, accent chairs, some wood and upholstered furniture. You need something from Industria to make it a cohesive look."
You wouldn't know it from Industria's stunning showroom, but the brand took over two decades to coalesce into the modern showcase it is today. Tiotuico and business partner Arthur Viray started in the '90s with Industria's manufacturing arm, Vico Manufacturing Corporation.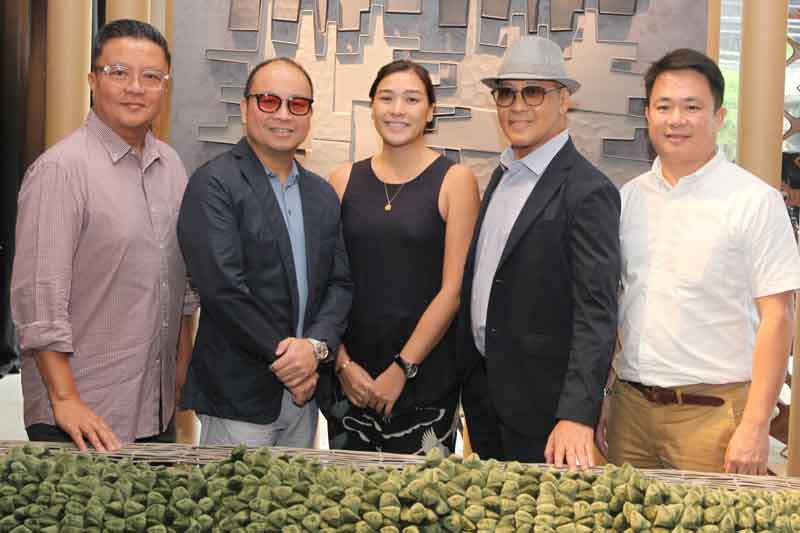 Industria Edition creative director and chief designer Jude Tiotuico (second from left) with designers Eric Paras, Lilianna Manahan, Budji Layug and business partner Arthur Viray at the Industria Edition showroom at The Residences Greenbelt.Photos by JOEY VIDUYA
"We were subcontracting wrought-iron accessories and furniture for a French company until the early 2000s," relates Viray.
In 2007 Tiotuico met interior designer Eric Paras, and the furniture maker became his first mentor, showing him the ropes of furniture design and helping him find a distinctive look. The two have been collaborating ever since.
"I'm a cofounder of the brand because I've been working with them for almost 10 years," Paras says. "I met Jude because I'd been working with other furniture companies and he saw the outcome of my work. So he invited me to work with them as a consultant."
In 2013 Tiotuico got the chance to work with two other design luminaries via CITEM's Design Philippines — furniture designer Kenneth Cobonpue and interior designer Budji Layug — and their mentorship helped him gel Industria's signature metal-based look.
"They've given us this direction that we're really good at," Tiotuico says.
The result is Tiotuico-designed pieces that have won CITEM Katha Awards, like Industria's Bordeaux and Loopy lounge chairs, which combine rich textiles and other materials with metal, of course.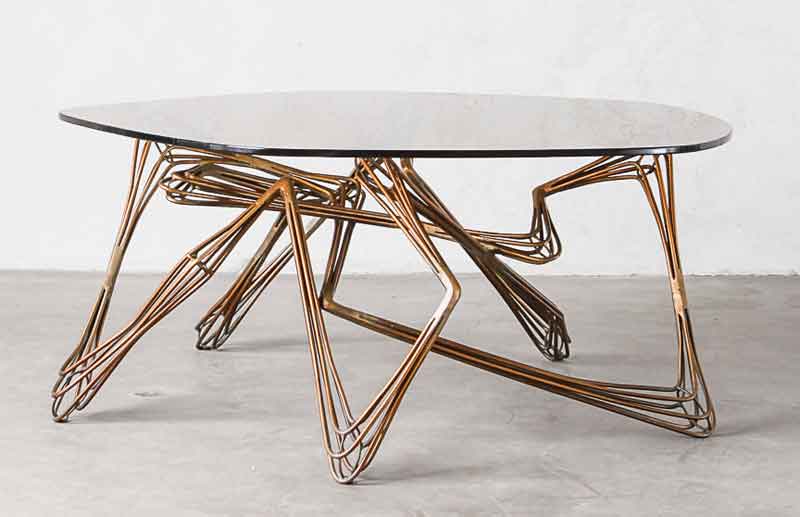 Conversation piece: Bent steel holds up a slab of cut glass in Leeroy New's Z-Zag coffee table.
"The thing that attracted me to metal is its unpredictability," Jude explains. "Metal is unlike wood, which you can just carve into shape. With metal, instead of shaving it, we bend it, forge it, hammer it, and sometimes by hammering it, it goes the other way from what you expected it to be."
In This Edition: 4 Designers
"Edition" in Industria Edition refers to the brand's ever-evolving furniture and accessory collections, often in collaboration with noted local designers. For this Edition, Industria chose four they've collaborated with before: Budji Layug, Eric Paras, Lilianna Manahan and Leeroy New.
Layug's contribution is a glass-topped round table named after its inspiration, the Molave tree.
"I said I'd make a table for him inspired from nature — a tree trunk," Layug says. But here's the Industria twist: the branching base is "not wood; it's metal — steel plate with a bronze finish."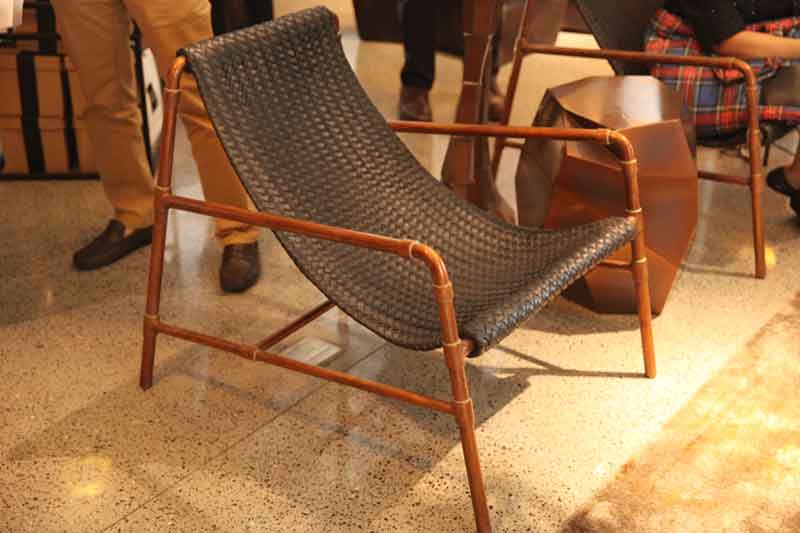 Comfort meets craftsmanship: Lilianna Manahan's Umpire chair is made with only six copper tubes.
Paras designed standing lamps that look amazingly like mushrooms from forged metal. "Metal is really their forte," Paras says. "They're expert with different finishes. Like (the mushroom lamps), they are so good with the finish, even the manufacturers in Europe who deal in brass and copper, they're surprised at how Jude was able to produce a finish that's better than the natural elements."
Tiotuico also wanted to include couches in the collection, so Paras designed the Jurgensen Sofa, a plush settee in different sizes incorporating Mid-century Modern elements. "It's like an art-deco inspiration, like modern, Bauhaus — the material is like velvet, and that forest green (color) is our favorite," Paras says.
Lilianna Manahan wanted to challenge herself by making a chair with the least amount of pieces as possible. "My reference was the Thonet chair from the '30s," she says. "They did that in six pieces out of wood, so I wanted to try to do that with metal."
She also took reference from the umpire chairs in tennis, wanting the seat made out of quilted canvas or suede, but after "a couple of years' worth of revisions with Jude," her final Umpire Chair is now made of woven leather on a frame of copper tubes.
"I wanted to use copper because it comes out in different finishes, so we wanted to play around with that, and leather gives it more of a sturdy feel, but since it's woven, it still has a level of craftsmanship."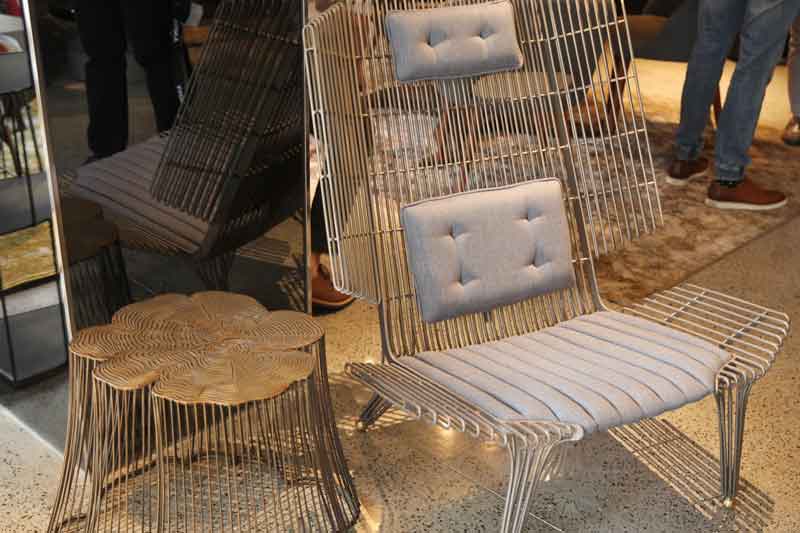 Heavy metal: Industria Edition furniture pieces flaunt the brand's expertise in working with metal and metal finishes.
She's also happy to report that the chair is constructed out of only six pieces, just like the Thonet.
Young artist-designer Leeroy New's piece, the Z-Zag coffee table, is made of bent and fused steel rods that appear to move up and down while holding a slab of cut glass.
"That's very Leeroy, the angulating lines," Tiotuico points out. "The artist in him shows in his design. But he permitted me to tone the sculptural look down a bit to still get all the products in the same category of transitional pieces instead of sculptural pieces."
Tiotuico's own designs for this Industria Edition include the Loopy Chair, a hammock-like seat hanging from a metal stand inspired by branches, and Starburst Lights, round clusters of steel that somehow manage to evoke the ethereal quality of those heavenly bodies.
"We started with the local market with buyers that are always telling us, 'That's why we like you guys, you have this feel of a good find,'" Tiotuico says. "So when they see our pieces they feel that it's a unique piece. They don't see it anywhere else, so we want to keep it that way."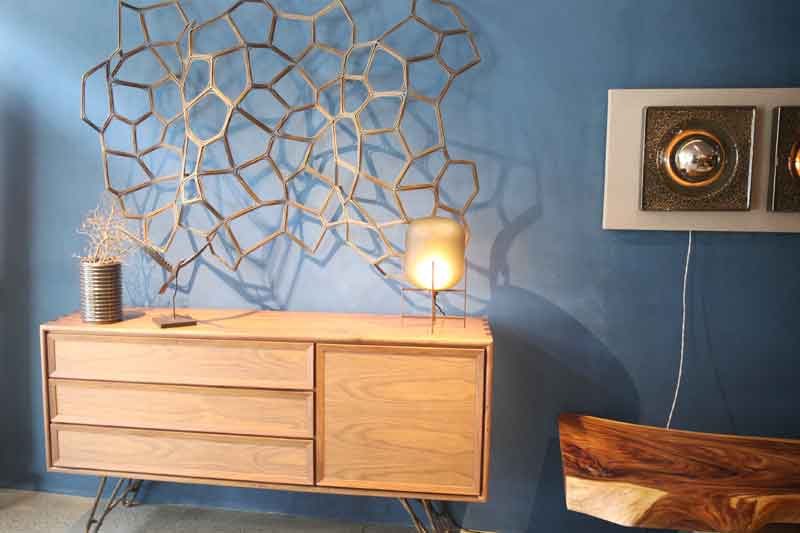 Blue steel: A showroom tableau shows Industria Edition's design aesthetic.
* * *
The Industria Edition showroom is located at The Residences Greenbelt, Arnaiz Avenue, Makati, open daily from 10 a.m. to 7 p.m. To know more about the Editions, visit http://www.industriaedition.com/ or call 738-7626, 0917-628-192 or 0939-936-1922.
Source: https://www.philstar.com/lifestyle/supreme/2018/08/25/1845755/license-steel