MANILA, Philippines — With a mask covering her mouth, Meryll Soriano was obviously sick when she attended the media call to formally announce the entries to this year's Cinema One Originals that is set to kick off tomorrow, Oct. 12. But it didn't stop Meryll from coming on time at the 14th floor of ELJ building of ABS-CBN to promote Never Tear Us Apart that she's starring in with Ricky Davao.
"Keribels lang go, go, go," said Meryll in true showbiz lingo fashion. "This is my first Cinema One film after a long time. It slipped my mind when was the last but I do remember that it's also by Whammy (Alcazaren, director) so I'm happy to be back."
Meryll sees her character in Never Tear Us Apart as another test of her acting ability. Indies, she added, always give her a different kind of challenge. "After reading the script, I told Whammy that I really wanted to be part of this film given my role as a mother who is different and, at the same time, struggling to find herself. It's a good family film."
According to the press release, Never Tear Us Apart manages to make sense of combining third world espionage with old country folklore. What's appealing for Meryll about the story is that it touches on the narrative of a typical family with Ricky portraying as her husband.
"I think I've found my 'home' through indie films, particularly with this one. I've never done any commercial film since 2004 and since I've always been cast mostly in indies, I guess, this is my avenue to have a voice in this (filmmaking) world. And of course, this is where I get to tackle different roles."
It's been quite some time since the actress appeared on TV, her last being in La Luna Sangre. Her decision to study abroad temporarily took her away from the acting spotlight.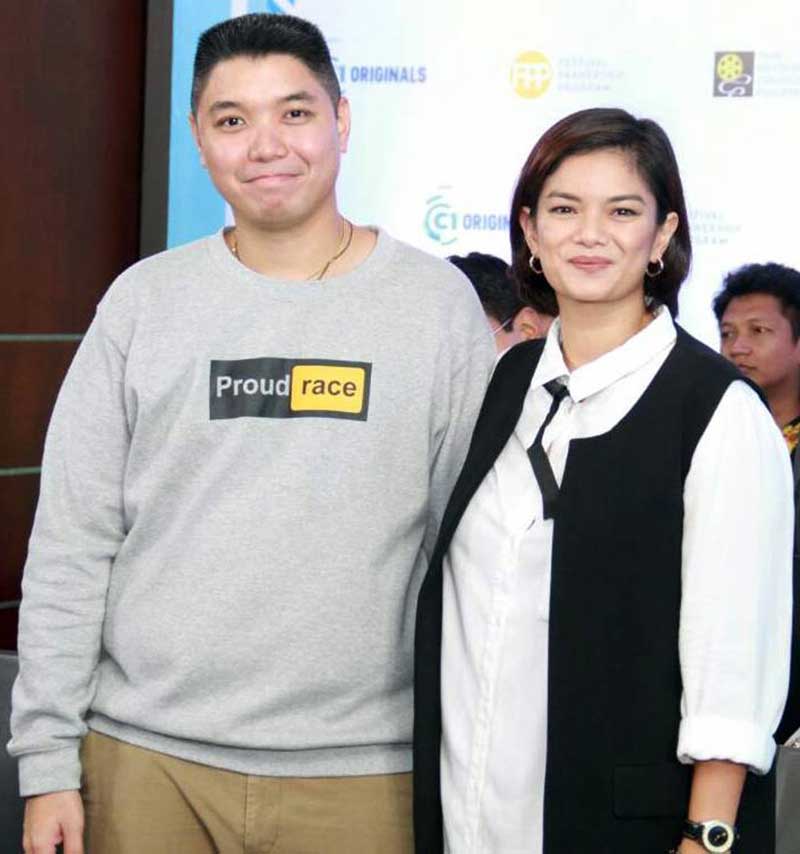 With direk Whammy during the recent media call
"I left the country to study in London so pagbalik ko, hindi ako masyado naging visible because I did not do any commercial film," said Meryll who took a course on product design.
"'Yung napag-aralan ko nagagamit ko ngayon through my company called Do Good Studio. It's a design firm that helps solve problems when it comes to graphic designs. We also do publishing and we're working now with QC Vice Mayor Joy Belmonte for Definitive QC guide book."
Aside from being busy with indie films and a graphic design business, Meryll still manages to squeeze into her schedule taping days for a new TV project under Dreamscape with Judy Ann Santos in the lead role.
"I'm also planning to direct my first film next year so hopefully, matuloy. I'm learning a lot of new things this year because I'm also attending a scriptwriting workshop, the Batch 19 under Ricky Lee."
Meanwhile, crime seems to be the common theme in most entries in this year's Cinema One Originals but from different vantage points and perspectives. The films that will be shown alongside Never Tear Us Apart are A Short History of Bad Things by director Keith Deligero; Double Twisting Double Back, Joseph Abello; Hospicio, Bobby Bonifacio; Paglisan, Carl Papa; Mamu and A Mother Too, Rod Singh; Asuang, Rayn Brizuela; and Bagyong Bheverlyn, Charliebebs Gohetia.
Cinema One Originals is under the festival partnership program of the Film Development of the Philippines. All films will be shown in cinemas at Trinoma, Glorietta, Gateway, Santolan Town Plaza, Powerplant; (Cinelokal theaters) SM North Edsa, SM Megamall, SM Manila, SM Sta. Mesa; (alternative cinemas) Cinematheque Manila, UP Cine Adarna, Cinema '76, Black Maria Theater and Cinema Centenario.
(Ticket prices are P200 each in major and alternative cinemas, and P150 for students and at SM CineLokal theaters.)
Source: https://www.philstar.com/entertainment/2018/10/11/1858947/meryll-indie-tests-my-acting-ability