Two-Michelin-star chef Richard Ekkebus of Amber in HK was in town to do a pair of collaboration dinners with chef Chele Gonzalez, the first in a series called Serie Kulynaria, where Gallery by Chele welcomes great chefs from around the world to do collaborative dinners.
When I took this item away from our menu, people formed a movement to protest."     
I took a spoonful of chef Richard Ekkebus' dish and quickly realized I would have joined this movement. The salty caviar, the rich cauliflower cream, and the flavorful lobster gelée all combined for a most wonderful experience. It was, by far, one of the best mouthfuls I've had this year. On the surface, it would be madness to get rid of a dish so perfect, but I got to pick the mind of the chef, and it became clear.
A couple of days before I ate this magical dish, I got to sit down with chef Ekkebus for a chat. He was in town to do a pair of collaboration dinners with chef Chele Gonzalez. This would be the first in a series called Serie Kulynaria, where Gallery by Chele welcomes great chefs from around the world to do collaborative dinners. Already deep into prep, chef Ekkebus was kind enough to take a break and hang out.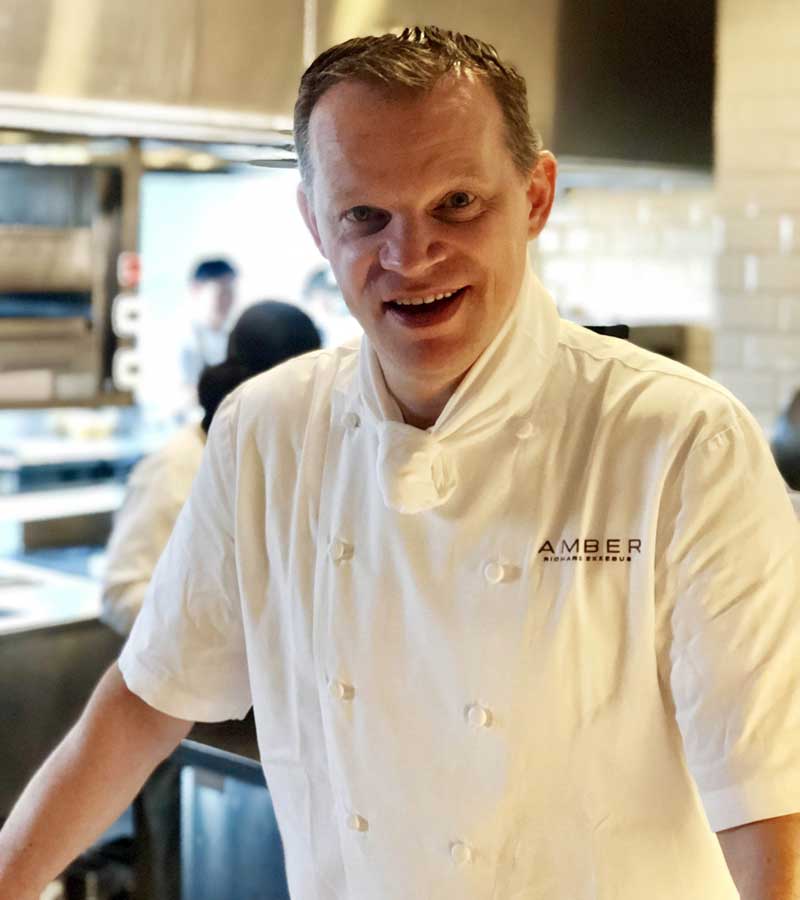 Chef Richard Ekkebus of Amber
"What we try not to do in Amber is to be known to have signatures," he explains, after I asked him about his signature dish. "We don't want to reach a certain level where we are completely satisfied with a dish. We tend to say farewell to it pretty rapidly because I think the most boring part of our job is the reproduction of things. If we always do the same things, it's not really stimulating, so we don't really hang onto classics too long. That is how food should be, a constant evolution, because we see new opportunities. We see improved flavor profiles. When I see a dish and I say, "This is something I can be proud of, then I want to move on." (Laughs)
This drive to constantly improve has certainly helped him. Amber, his celebrated restaurant in Hong Kong, has been awarded two Michelin stars and they have kept them for 11 years — no small feat, which made me curious how he handles the pressure, if there is any to begin with.
"As with any recognition, getting it is hard work, but I think to keep them is even harder work. Does it change my daily stress levels? No, it doesn't. There's no recognition that does that. I think it's the guests and the expectations that set my stress levels, and that is also my true reference point," he says. "I think we should stay true to what we are and what we want to achieve. At the same time, it's driven by personal satisfaction as well. I mean, you cannot do this 16 hours a day if you're doing something you do not like. What's most important for me is that I do what I like, that there is pride in what we do. If that is the case and we get recognition along the way, then great job, but we do not do our work for recognition."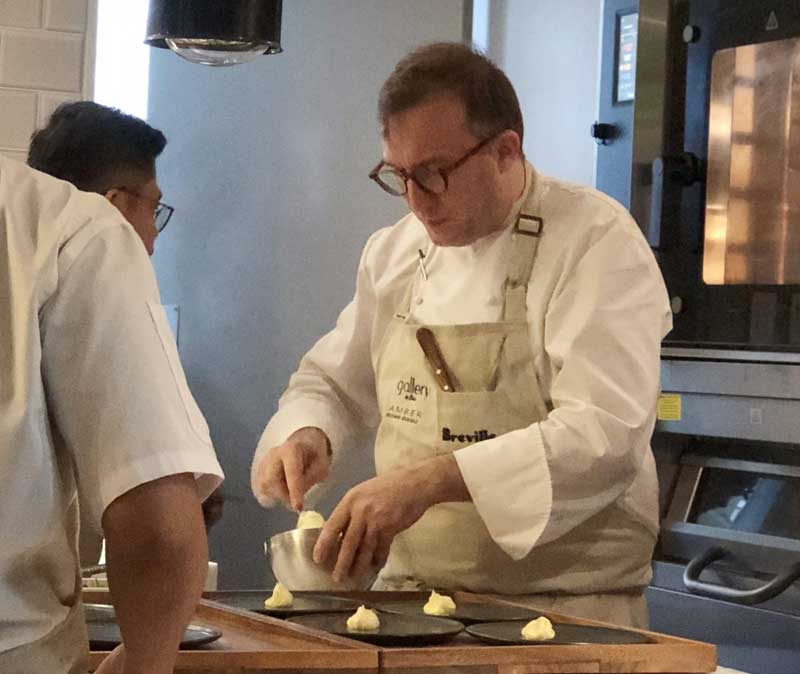 Chef Chele Gonzales will be working with at least three more chefs in more collaborative dinners for Serie Kulynaria.
Speaking of doing work, the chef in me was curious how he felt working in another chef's kitchen. Doing popups across America, I found it awkward sometimes stepping onto another chef's turf. I asked him if he felt similar.
"We've done a lot of four-hands collaboration dinners over the past eight years, so we're pretty experienced at it," he replies. "We'd bring in a chef and he would cook his menu and I always felt a little like a stranger in my own kitchen because somebody comes in and takes over your kitchen and it's really awkward. I think that is awkward, but when you create a collaboration, you get an experience that you won't get in Chele's kitchen nor in my restaurant. It makes it a unique experience."
The meal I had two days later was a testament to that. Alternately enjoying chef Ekkebus' and chef Chele's dishes, I could sense the differences in their techniques, but also the harmony in the menu sequence. It was obvious the chefs and their teams not only worked well together, but they also enjoyed the experience. What resulted was a succession of over 12 dishes, each one absolutely delicious. I was glad chef Ekkebus found time to travel here.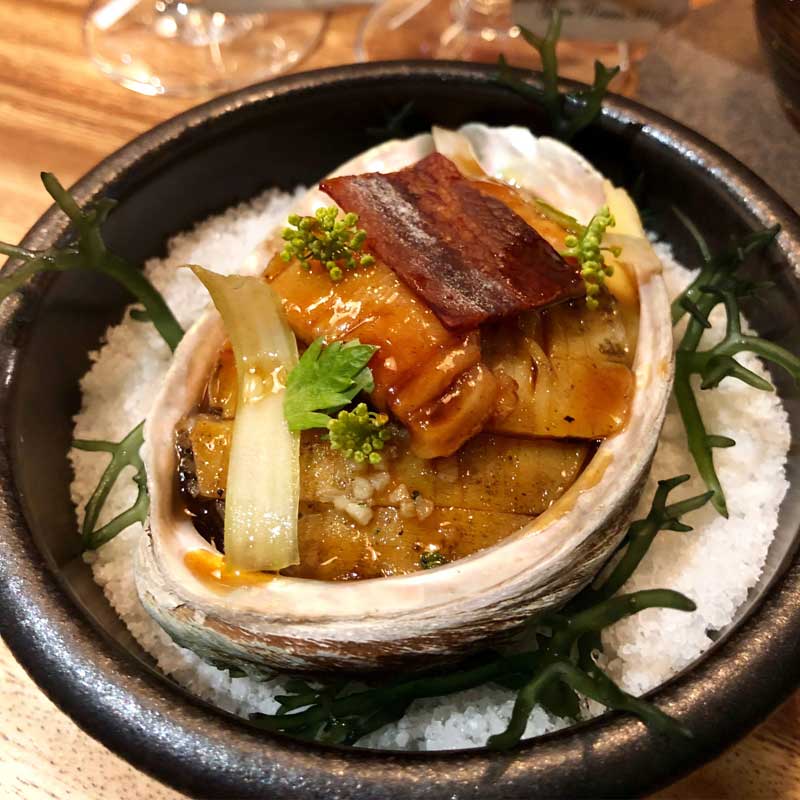 The combination of Abalone and Pork Jowl was dynamite.
"Chefs should travel," Ekkebus declares. "You know some people say, 'Oh, the chef isn't in his kitchen; he's traveling.' Of course you shouldn't travel every week, but it always brings value to me, to go to another country and learn another culture. You meet another team. You see their work methods — a different set of values — and it's always a big inspiration. I always come back with a lot of ideas and I feel very refreshed and motivated."
Part of that travel experience is, of course, tasting new food, some of which may require some degree of bravery. I'm glad we share a similar philosophy on tasting everything.
"I have actually tried every single thing once," the chef admits. "I did not always enjoy it, but I've eaten them. I've lived on four continents with my family and everywhere we go, we get used to different customs, habits and culinary delicacies and I am still intrigued, so I will always try it. There are, you know, like insects are still a little complicated to eat, but I would still try them. I think you cannot judge or have an opinion about something if you've never tried it. And I'm a chef, so I'm curious!"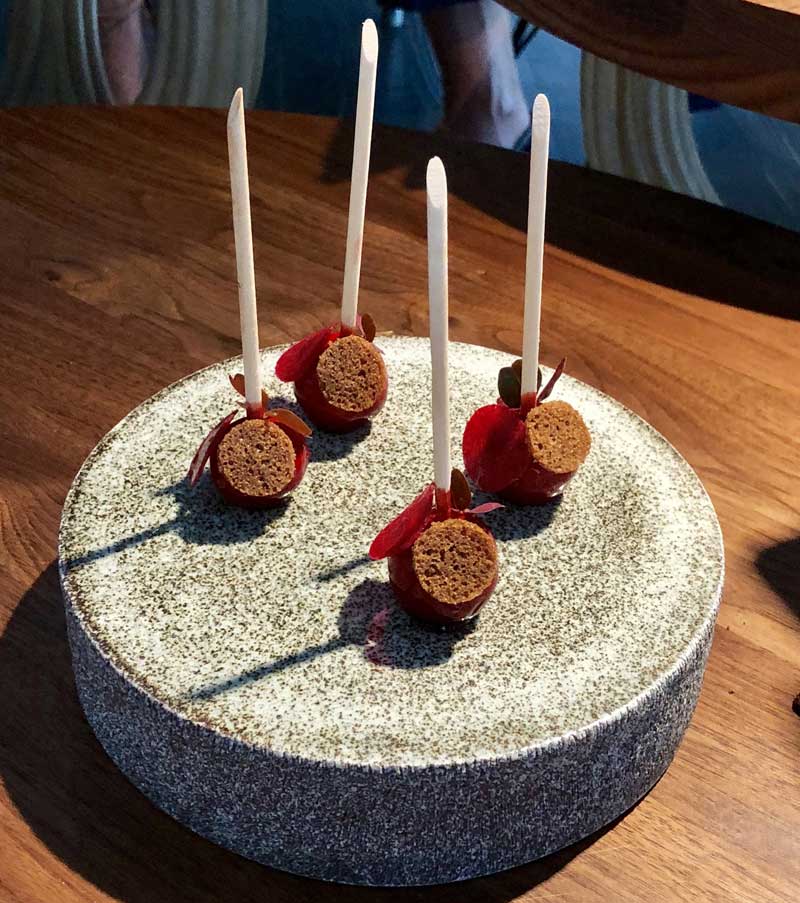 These "Chupa Chups" are made with foie gras and beets.
That, in turn, made me curious about what he has tried here. Somehow, I am not surprised by his choice of favorite Filipino dish so far: "I'm not sure what you call this dish, but you get the snout of the pork and you boil and make it crispy with the pork brain and some calamansi. Is that sisig? I think that is very good and adobo, of course!"
As a parting shot, I asked him for some advice for diners on how to get the best eating experience. He does not even hesitate.
"When you go to any restaurant, you must ask for the chef's menu. The chef has pride on that certain moment when they are cooking. I believe in the Japanese system of omakase, where the chef decides what to eat. I think you always have the best experience because it's from the heart to the heart of the person. I've always had a problem with a la carte menus because there's always a disconnect. It's like you go to the movies and you're allowed to select your opening scene, your mid-film scene, your main scene and then the closing scene of the film. There's going to be a disconnect on the film."
*   *   *
Sharwin's new book, So, You Want to be a Chef? is now available in bookstores. Follow Sharwin's food adventures on Instagram @chefsharwin and for questions, reactions, recipe and column suggestions, you can contact him at .
Source: https://www.philstar.com/lifestyle/food-and-leisure/2018/10/11/1858929/sisig-and-michelin-stars